SUCCESS STORY
Liva Pastacılık
Liva Pastry, which has been serving in Ankara with its 4 branches since 1993, has achieved rising success over the years with its digital transformation. In 2016, it started to cooperate with Flatart in the areas of SEO, SEM, digital ads, web page design, and social media management. The number of monthly orders that Liva Pastry currently reaches exceeds 7,300 in the Ankara location only, thanks to the digital operation launched from scratch.
Impressum
Brand Manager:
Digital Ads:
SEO Manager:
Web Developer
Content Creator:
Dilara Karakuş
Şerife Aytekin
Emel Elbeyoğlu
Serkan Sarıçiçek
İrem Genç
7% Increase in E-commerce
Conversion Rate with Special Digital
Communication Strategy for Ramadan!
Objectives:
• Increase order conversion during Ramadan and the previous period
• Reducing abandoned cart rate
• Increase the order amount by offering additional products next to the best-selling products
• Informing users clearly about campaigns
Problems:
When the website data was analyzed, it was observed that users add products to the cart, but before finalizing the purchase, the abandoned cart rate increased and the visit rates of the product category pages with campaigns were low. In this scenario, it was necessary to develop a new method to attract users' attention, drive traffic to the categories with campaigns and maintain users' interest.
Solution:
Targeting users who add products to the cart on the website but tend to check out, we designed popup strategies through Popupsmart with the aim of converting abandoned carts, increasing the number of orders, and started to bring them together with users through remarkable designs in the periods before Ramadan.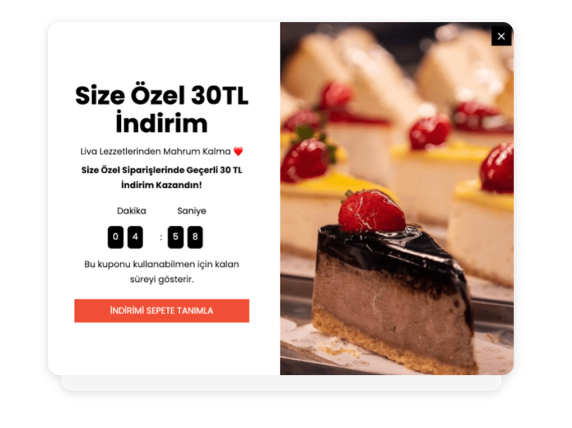 Popup Strategy
Thanks to the discount codes in the popups that appear when the action of exiting the order page is shown, we created a fiction that allows users to get a discount by using a specially generated code and directing them to place an order. With this design, we directed users to purchase by creating a FOMO effect and attracting their attention during both Ramadan and Eid, and we increased the revenue by significantly reducing the cart abandonment rate.
As a result, we were able to increase conversion rates with the right popup communication strategies we created for Liva Pastry. Thanks to the popups created, approximately 46 thousand views were obtained from the beginning of Ramadan until the end of the feast, and 7,978 users interacted with the popups.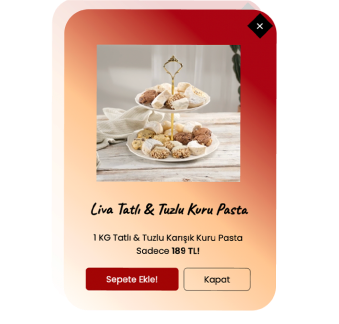 Developing popup communications that can respond to the needs of users by developing the right strategies is used as both an affordable and high-impact marketing tool for e-commerce sites.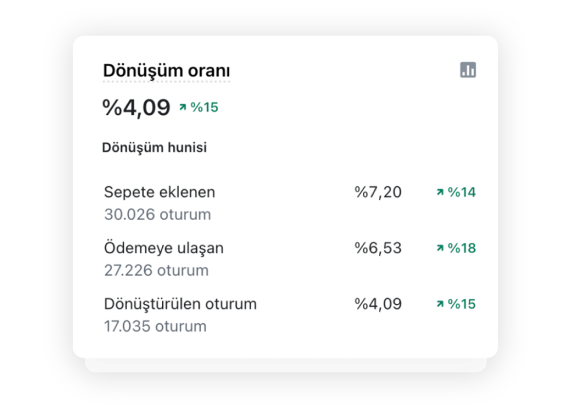 Although popup communication seems very simple, it can negatively affect the user experience in cases where it is designed without developing a correct strategy and analysis, it can cause users to be uncomfortable in their website experience and even leave the website immediately. For this reason, it is very important to get help from experts when designing popup communication.
Special Landing Page for the Ramadan
By preparing a special landing page for the Ramadan, we gathered all the products and campaign messages that users may show purchasing behavior during this period on one page and built a structure with User Generated Content (UGC) content so that the user can shop without getting lost in the website and eliminate all question marks that may arise.  We managed to increase the landing page traffic and sales of the products by targeting ads with special segmentation for Bayram and Ramadan.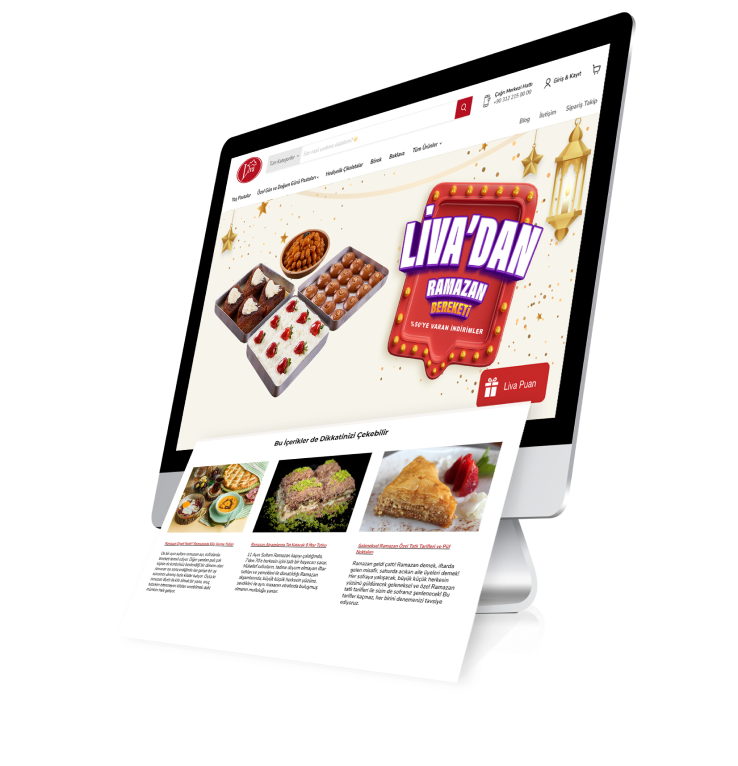 Our other success stories.
Liva Pastacılık
Liva Pastacılık: Our e-commerce brand for which we provide digital marketing consultancy, search engine optimization and digital ads services.
%5.79
E-Commerce turnover conversion rate
Check out the success story
TCDD Taşımacılık
Website UI/UX design, software development and search engine optimization (SEO) services.
+%24
Increase in conversion rate
+%125
Organic traffic growth
Check out the success story
Get a free report
about your website.
Your website is the place where you meet your customers and where you make a first impression. We can analyse the performance of your website and share a report with you - for free!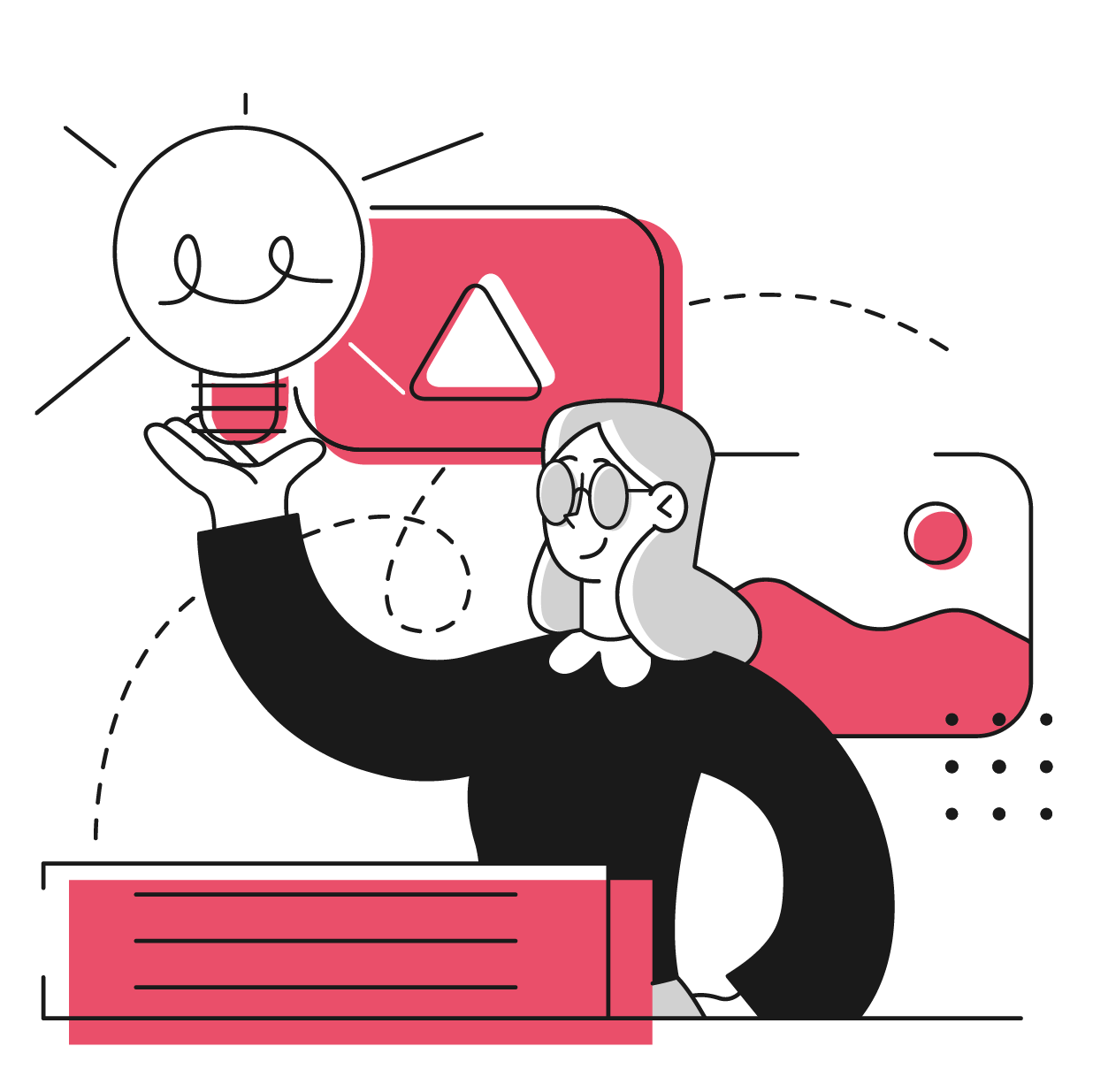 X
Fill the form
Enter your information in the fields to get information, and we will get back to you as soon as possible.